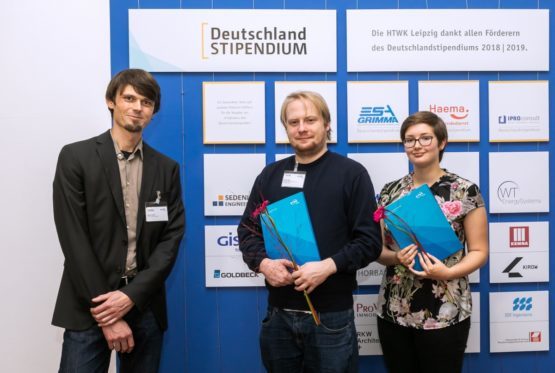 Wir freuen uns, auch im Studienjahr 2018/2019 wieder als Förderer des Deutschen Stipendiums tätig zu sein. Wie bereits im vergangenen Studienjahr unterstützen wir zwei Studierende der HTWK Leipzig mit einem Stipendium. Zum ersten Mal in diesem Studienjahr unterstützen wir einen Studierenden der Universität Merseburg (HoMe).
The Germany Scholarship is an excellent opportunity for us to support motivated and high-performing students in the region and to attract potential young talent at an early stage. Each scholarship holder receives a grant of 3600 euros for the duration of one academic year as part of the Germany Scholarship. Half of this sum is sponsored by the federal government and half by the sponsoring company and paid out monthly. 
Als Sponsoren wurden wir zu den Preisverleihungen der HTWK und der HoMe eingeladen. Hier hatten wir die Gelegenheit, in festlicher und geselliger Atmosphäre unsere Stipendiaten kennen zu lernen, erste Kontakte zu knüpfen und uns mit anderen Spendern zu vernetzen. Wir freuen uns auf einen regen Erfahrungs- und Wissensaustausch mit unseren Stipendiaten und wünschen ihnen viel Motivation und Erfolg für ihr Studium im laufenden Studienjahr.